Looking for a successful career as a basketball player?
Remember: Professional Sports is business. And businesses work with value exchange. Teams and even entire leagues can exist because of value exchanges. You deliver the performance, the team takes care of your bills. The bigger your value, the bigger your paycheck.
But what is your value? And how can you increase it?
In my daily work as a strength and conditioning coach, I always preach the value of physical qualities, such as strength, power, quickness, and durability. But each of these qualities is based on one thing: health
PERFORMANCE IS BASED ON HEALTH
What can you offer your team, when you have to sit out 30% or more of the season?
How many practices, and therefore opportunities to get better do you have if you're injured regularly?
You may think that injuries can happen at every time and in every game. Some players got lucky, others are persecuted. I agree injuries can happen to everyone. But it's a numbers game: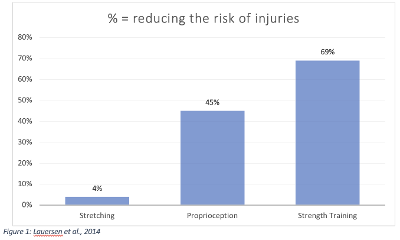 Figure 1: Lauersen et al., 2014
You may think that stretching regularly is crucial for injury prevention. The evidence clears, it is not. Strength training is. Even if basketball does not involve any kind of weights, the impact on a player's joints, tendons, and muscles is huge.
Running for example causes a force on the knee joint equal to about 4 times body weight. Jumping does so with 6 times bodyweight. To be clear: you have to be strong.
MOST BASKETBALL PLAYERS ARE TOO WEAK
As an S&C Coach I get a lot of questions from players:
"How can I increase my Vertical Jump?"
"How can I develop my first step quickness?"
My most common question to them is…
"How much can you squat?"
One Assessment I do with my Clients is to test maximum strength in one or more compound lifts. Because speed, power & athleticism is based on maximum strength. The stronger your foundation, the faster you can get.

Most players think about explosive & plyometric training and other kinds of sport-specific exercises. But playing basketball itself is a form of sport-specific explosive and plyometric exercise.
Basketball is low resistance – high-speed. To get even more out of our workouts, we should emphasize high-resistance – low-speed training.
HOW STRONG IS STRONG ENOUGH
For sure, this depends on various factors. The main benchmark I set with my athletes is a percentage of their body weight (BW) in one or more compound lifts. So how many times bodyweight can you do for a single repetition in a given lift (1RepMAX)
For basketball players, I like to use a Heel Elevated Backsquat, Trap Bar Deadlifts, and Chin-Ups.
Backsquat: 1,5xBW
Trap Bar Deadlift: 2xBW
Chin Up: 25%BW (additional weight)
SO, HOW TO GET STRONGER IN 90 MINUTES PER WEEK?
I like short, intense workouts. They limit fatigue (and therefore do not impact your skills training and practice) and increase testosterone levels, which leads to more energy, focus, and better recovery.
Aim for a minimum of 2 workouts per week, about 45 minutes per session. Here is an example workout scheme:
Week 1-4
Workout 1
A Backsquat (heels elevated) 5 sets of 8
B1 Chin Ups 4 sets of 1-3
B2 DB Benchpress 45° 4 sets of 6-8
Workout 2
A Trap Bar Deadlift 5 sets of 5
B1 Overhead Press 4 Sets of 6-8
B2 Facepulls 4 Sets of 8-12
Week 5-8
Workout 1
A Backsquat (heels elevated) 5 sets of 4
B1 Pull Ups 4 sets of 1-3
B2 DB Benchpress flat 4 sets of 6-8
Workout 2
A Trap Bar Deadlift 8 sets of 2
B Nordic Curls 3 sets of 5
C1 Neck Press 4 sets of 6-8
C2 Facepulls 4 Sets of 6-8
Notes: Perform 1 set of a station (e. g. B1, B2) one set after another (e. g. 1. Set B1, 1. Set B2, 2. Set B1, …) with 2 minutes rest between. For stations with just 1 exercise (e. g. A) rest 3 minutes between sets.
Every exercise should be performed with a 4 sec. phase of lowering the weight (e. g. going down into a squat) and a fast concentric phase (about 1 sec.) of lifting the weight.
Write down your weights in every workout and aim for weekly progression. Small increases lead to massive strength gains over time. Place the workouts on separate days, 5-6hrs before your practice/skills training or immediately after.
So get stronger, and faster, and stay healthy!